A continuous and ever changing book collection full of my favorite and recently read Young Adult fiction, Self-love ,and poetry books that I have comprised over the years! Disclaimer, my bookcase consists of both new and old works that have fallen into my grasp over the years. These reviews are entirely my own opinion as to what I thought about the novels, and shouldn't by any means be a hindering in your curiosity should you choose to embark in reading any of these works.
1. The Story of My Life: If a Story is in You by Piccadilly
This journal is a continuous free write and chronicles the story of your life. You are allowed to be as honest as you want in this private way of expressing yourself! I bought this book for myself and later for a friend of mine in late 2018, and I too this day continue to use it.
Like I said, I have been slowly working on this journal as it is split into three main sections: Past, Present, & Future. I wanted to be sure to be as accurate as possible when completing it and look forward to looking back at all the amazing stories when I am finished.
2. I'll Give You the Sun by Jandy Nelson
This is a coming of age novel that recounts the lives of Jude and Noah, two inseparable twins. When a heart-wrenching loss strikes the family, Jude and Noah's relationship and close-bound begins to die until neither of them is speaking to one another. But when a new piece of the tragic puzzle is uncovered they will have to come together again to find the answers they've both been missing.
I adore this novel! There are several twists and turns I never saw coming! Including, but not limited too, the massive reveal at the end of the book that changed the story completely!
3. The Hate U Give by Angie Thomas
We are introduced to Starr Carter, a young black teen who struggles to balance life living in the impecunious black neighborhood of Garden Heights, and William Prep where she attends school with the majority of attendees being privileged white students. She is led to activism after witnessing the murder of her childhood best friend by the hands of the police.
I read the book before watching the movie, since it's my one rule when a book has been adapted into a film. Although, both were amazing in it's own way, personally, I enjoyed the book much more than the movie. While the movie captured the essence of the book and the emotion piled into it. The novel roped me in with the beautiful character development of each character. Regardless, if they were the main character or the people in the neighborhood living their everyday lives. Please be sure to check out both giving that this is only my opinion and isn't meant to influence yours.
4. They Both Die At The End by Adam Silvera
In this novel we follow Mateo and Rufus during their last 24-hours on this Earth. The two boys start off viewing their last day entirely different. While one is dreading and spiraling in an anxious panic, and is completely heartbroken as he regrets all the chances he never took. Rufus, is more concerned about how those around him feel and all the pent up anger he has in regards to his past.
This novel broke my whole heart! This book was a lovely quick read and one that I most recently finished. I cried at the end, even though, the title already gives you a warning as to the ending it still hits you hard! I found myself entirely cheated and angry because of how beautifully the writer captured the relationship between both boys and their new perspectives as the book comes to an end. I've been lucky to read Adam Silvera's work in the past and he does a wonderful job at giving the reader just enough hope and then ripping it all away. Personally, I LOVE THAT! I look forward to reading his upcoming work 'Infinity Son' coming to bookshelves January 14, 2020!
5. What If It's Us by Becky Alertalli & Adam Silvera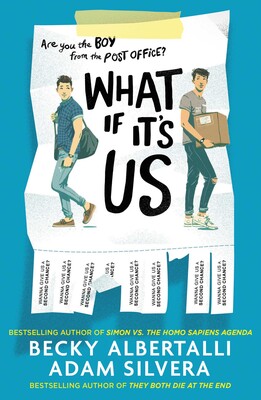 This novel follows Arthur and Ben as they challenges the idea of fate and love at first sight. You're taken along on their wild race to make every moment count before summer ends.
I loved this novel! Arthur, is a quirky, hot-dog tie loving, adorable teenage boy with such a loving narrative. I'm a huge fan of Becky Albertalli, and enjoyed her most recent works 'The Upside of Unrequited and Leah on the OffBeat'! So, you can imagine my excitement when I found out that she'd be collaborating with Adam Silvera on this novel! Recent news shows that this novel is in the works to be adapted into a film! I can't wait to see these two boys in theaters!
6. For Everyone by Jason Reynolds
This poetry book is a love letter for the dreamers of the world! It is a beautiful poem about Jason Reynolds life as a creature and the personal struggles that come along with it. I simply adore the honestly of the whole poem created by a young, black bestseller who understands being black in America, but not allowing that kill your dreams!
This is one of my first time's reading any work from Jason Reynolds, and I fell head-over-heels for his words. Frankly, I stumbled across this poetry book while looking for a completely different book! Even during checkout I was unsure whether or not I should purchase it, due his rather unusual method of delivering a poem. But I tried something new and I really enjoyed this and look forward to reading more of his works in the future!
7. Milk & Honey by Rupi Kaur
This is one of my first excursion into poetry and one of my best adventures into it. Rupi tackles body image, a woman taking back her sexuality, sexual assault, parental issues, and self discovery. Her work is absolutely darling! Her work is empowering and a raw expression as to who she is as a writer and a woman. As the reader, you are transported into the world just at the cusp of her mind and feel as though you are being told these stories in person. I will say, please be aware of your mental health and personal limitations when embarking on this as it does cover graphic and triggering stories.